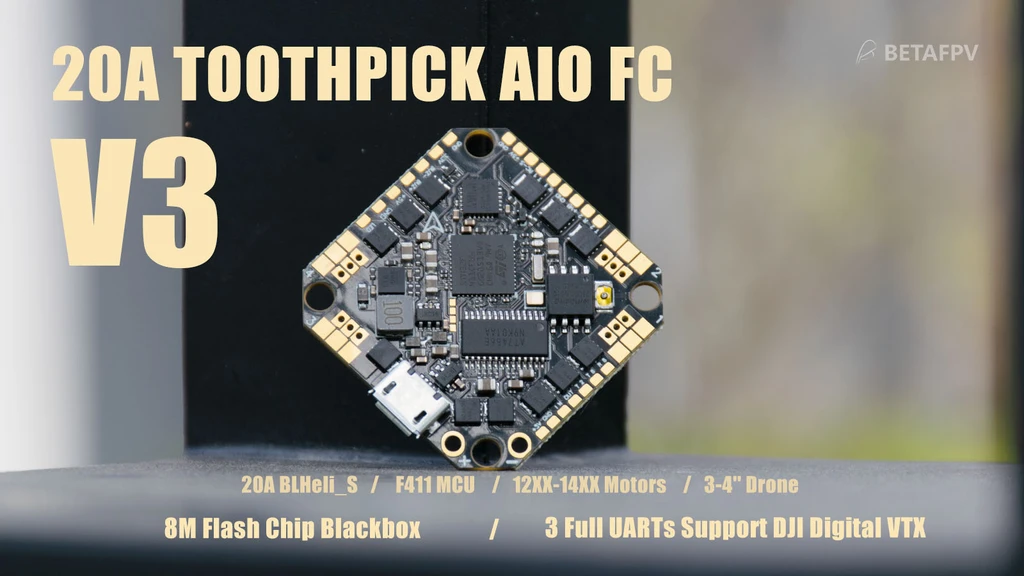 The classical Toothpick F4 Brushless FC 20A V3 board restocks now. 
The V3 version has all the functions of the V2 board, also add the following 2 additional functions.
Add 8M Flash chip for Betaflight Black Box.
3 full UARTs (UART1, UART2 and UART6) are available in the V3 version. Pilots could use one UART for DJI digital FPV unit or Caddx Vista digital FPV unit and the other UART for external receivers like TBS Crossfire.
The V2 board only has one full UART and could not support DJI digital FPV VTX.
For a new generation of toothpick drone,this new AIO Brushless FC can handle 20A continuous current(25A burst), which is the first 20A All-in-one FC on the market. Compared to FC / ESC Stacks design, this board provided with massive levels of performance capability while still maintain ultralight only 6.63g. Breaking through the limit of toothpick power, exploring more possibilities in 3"-4" drones. This board is your best choice to DIY your own toothpick drone that is tailored to your requirements.
If you are looking for whoop version, please click here to reach out.
Here is a video of detailed introduction for 20A AIO FC, made by Jon E5 FPV.
BULLET POINT
This new board can handle 20A continuous current(25A burst), which is the first 20A All-in-one FC on the market
Comes with 4*Motor Pluggable Pins and Not Pre-solder in default, fits your needs of self-assembly best
Compatible with 120X, 130X, 140X motors, and 1505 motors
USB port is mounted on the side, you have more possibilities of mounting it while still maintaining access to the USB port
All of the solder pads are at the edge of FC, which is a convenience to solder
Double-sided motor solder pad. Pins pad and wires pad are both built-in for motors connection
Integrated with a Betaflight MATEKF411 processor FC, Betaflight  OSD, F4 MCU, and 20A ESC, support 2-4S battery
BULLET POINT
This new board can handle 20A continuous current(25A burst), which is the first 20A All-in-one FC on the market
Comes with 4*Motor Pluggable Pins and Not Pre-solder in default, fits your needs of self-assembly best
Compatible with 120X, 130X, 140X motors, and 1505 motors
USB port is mounted on the side, you have more possibilities of mounting it while still maintaining access to the USB port
All of the solder pads are at the edge of FC, which is a convenience to solder
Double-sided motor solder pad. Pins pad and wires pad are both built-in for motors connection
Integrated with a Betaflight MATEKF411 processor FC, Betaflight  OSD, F4 MCU, and 20A ESC, support 2-4S battery
PACKAGE INCLUDES
1 * Toothpick F4 20A AIO 2-4S brushless flight controller V4
1 * Cable Pigtail (XT30)
4 * M2x10mm screws
4 * M2 nuts 
4 * Anti-vibration rubber dampers
4 * Motor Pluggable Pins