The dipole T antenna is designed and manufactured by BETAFPV for a 2.4G receiver. This antenna is omnidirectional. RF balun circuit comes with this dipole antenna, just inside the injected rubber enclosure. Every piece of the antenna is tested with the frequency spectrograph to make sure it works in the correct status.
Specification
Coaxial cable length: 80mm
Antenna width: 60mm
Weight: 0.94g
Connector: IPEX MHF
Gain: 2dBi
VSWR: <1.4 (2.4G version)
RF Antenna Balun
What is a Balun and why should we use it in these dipole T antennas? In order for these balanced antennas to be fed by coaxial cable, an antenna balun is often included at the feed point. For more details, please check this article "What is a Balun: RF Antenna Balun".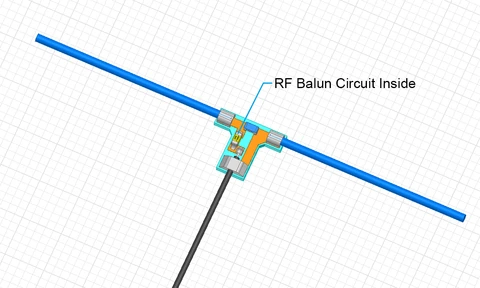 For the dipole T antenna, the balun circuit is in the injected rubber enclosure. For the different antennas, there is a related balun circuit.
Package