So you want to get into FPV racing, but don't know where to start? Or you don't have access to a large field, but you still want to experience the thrill of flying?
Then may we present: the TINY WHOOP.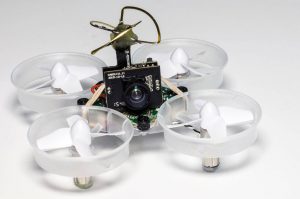 Unless you've just emerged from a cave after a few years, you may have heard of the Tiny Whoop. It all started when Blade released their tiny Inductrix quadcopter, which Team Big Whoop pilot Jesse Perkins modded with a tiny FPV camera – and the rest, as they say, is history.
The best part of the Tiny Whoop is that it's comparatively cheap, and can be flown literally anywhere. Fly it in your living room, fly it in your apartment building's hallway, fly it in your garden, heck, fly it in your class!
A fully built up Tiny Whoop weighs around 27-28 grams, depending on how skillfully you build it, and the propellers are guarded with ducts, so there's very little chance of breaking your props or hurting anyone with them. I've bumped the Whoop into myself a few times(intentionally and accidentally) and you can barely feel it.
Whether its yourself getting into the hobby or you want to encourage a child into the hobby, the Whoop will get you comfortable for flying bigger and faster copters very soon!
Here's what you're going to need to get started, if you don't have anything yet:
A radio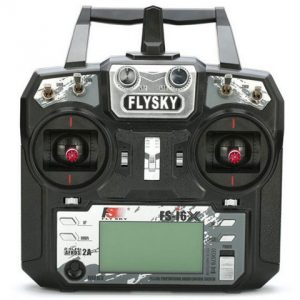 Tiny Whoops work with FlySky, Spektrum, and FrSky radios – these are three of the most popular brands in the multirotor community. Spektrum radios are not easily available in India, but FlySky and FrSky radios are – the FlySky FS-i6 is a good, cheap beginner radio.
A pair of FPV goggles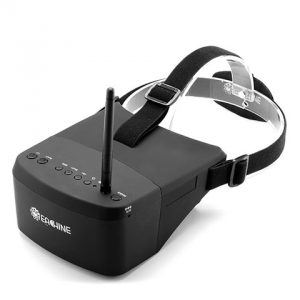 You'll also need FPV goggles for the fully immersive experience. Quadkopters carries budget FPV goggles, which you can have a look at here.
In case you're in the market for something a little more high-end, you can read this post by yours truly in which I take you through all the available options.
If goggles aren't immediately available, you can simply get a screen(any screen will work as long as it has RCA video input – car backup monitors for example) and a video receiver.
Building a Tiny Whoop
Tiny Whoops are super easy to build – assembling one takes less than half an hour and there is very minimal soldering involved. To build your Whoop, you'll need the following. All of these parts are coming soon to QuadKopters, so keep coming back to check:
A Tiny Whoop frame
4 59000RPM 0615(6 mm diameter, 15mm height) brushed motors
4 Tiny Whoop propellers
A flight controller(Eachine BeeBrain is great)
A micro FPV camera/transmitter combo
Some 200-range mAh 1s batteries
The only soldering you'll need to do is the battery lead and the camera power to the two pads on the flight controller. You can simply solder both positive wires together to the + pad and both negative wires together to the – pad.
The motors have connectors on them that just plug into the flight controller, so there's no soldering necessary there. Use some double-sided tape to stick the camera to the top of the board, snap on the propellers, and you're ready to fly!